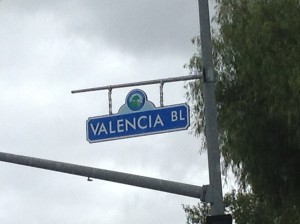 If a friend or loved one has been arrested and taken into custody in Valencia, California and you want to get them out of jail fast – Let Santa Clarita Bail Bonds help you. Whether you have questions you need answered, or you want to get the bail bond process started immediately, our staff of licensed, professional bail agents are happy to help.
Valencia is located in the Santa Clarita Valley and plays host to a number of the area's attractions including, Six Flags Magic Mountain, the exclusive golf course Tournament Players Club, exclusive colleges and so much more.
To speak with a bail bondsman located in Valencia any time of day or night, give us a call locally at 661-299-2663. Our offices are located just across the street from the Santa Clarita Jail, and we are always open. Your friend or loved one's freedom is just a phone call away.
Santa Clarita Valley Sheriff's Station and Jail Information
Santa Clarita Valley Sheriff Station
26201 Golden Valley Road
Santa Clarita, CA 91350
Station/Jail: (661) 260-4000
24-Hour Valencia Bail Bond Info 661-299-2663
Santa Clarita Sheriff Station Inmate Info
Over 200 sworn deputies work out of the Santa Clarita Sheriff Station to provide for the City of Valencia's law enforcement needs. They're responsible for patrolling over 500 square miles of territory, and they have the manpower and equipment to do it effectively.
Arrested in Valencia
When someone is arrested in Valencia, they're immediately brought to the Santa Clarita Sheriff Station to undergo booking and processing. Once this process has been completed, bail will be set and it will be possible to obtain their release via bail bond.
The jail at the Santa Clarita Sheriff Station isn't very big, with room for about 40 inmates, nor was it intended to be used for the long-term housing of inmates. When the on-site jail gets overcrowded, or if an inmate does not secure release after 72-hours, they will be transferred to one of the larger jails in downtown Los Angeles. Men are transferred to Twin Towers Correctional Facility while women are taken to CRDF, also known as the Lynwood Jail.
Upon being transferred, inmates will need to be processed into their new location – which can take a lot of time. These are large, busy jails, and on-site processing can take anywhere from 12 to 24-hours or more, during which time the inmate will be unable to be bailed out.
It's possible to avoid transfer altogether if the bail bond application process is started while the inmate is still located at the smaller Santa Clarita Sheriff Station jail, so it's often best to get the bail bond process begun as soon as you find out about the arrest.
Arrest and Booking Process
The arrest and booking process is likely one that you're familiar with, if you've ever seen a movie or T.V. show that involves law enforcement. It's when an arrestee has their photograph taken, fingerprints recorded and a national background check is conducted. The process can take anywhere from 45-minutes to several hours, depending on how busy the Santa Clarita Sheriff Station is.
Once the process is complete, bail will be set and it will be possible for an inmate to be released via bail bond.
How to Bail Someone Out in Valencia
To bail someone out of jail, you first give us a call and provide a little general information about the inmate that we will use to locate him or her within the system and verify their eligibility for bail. Then, we have you fill out the bail bond application forms and indmenitor's agreement. All of our forms are straightforward and simple, but if you have any questions, we're always happy to go over them with you.
Once the forms are filled out, we provide you with a receipt and dispatch one of our agents to the jail where they will post the bond. The inmate will be released a short time later.
Bail by Fax or Email
We realize not everyone looking to bail someone out of jail is going to be local to Santa Clarita. That being the case, we are fully able to handle the entire bail bond process via phone, fax or email.
All of our communications are confidential and discreet. So, if you're handling the bail bond process from your home or office, you needn't worry about any faxes or emails coming through bearing court seals or bail bond information.
Paying for a Valencia Bail Bond
We accept a variety of payment options, including major debit/cred cards (Visa, Master Card, American Express and Discover, as well as cash, checks (both business and personal checks are accepted), money order, bank account transfer and money wire.
If you're interested in financing your bail bond, let us know. We have a wide variety of payment plans designed to fit most any budget. The last thing we want is to compound the stress you're already feeling by requiring you to pay the full cost of a bail bond up front.
When you work with us, you will never be charged any additional fees or interest, no matter how you choose to pay for the bond.
If you would like more information regarding Valencia Bail Bonds, or you would like to get the bail bond application process started right now, give us a call at 661-299-2663. We're available around the clock to help you get your friend or loved one out of jail fast.