Men's Central Jail Bail Bonds and Inmate Information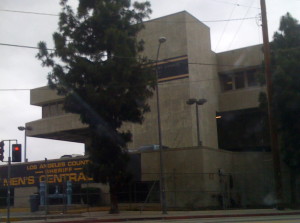 Do you know someone who's been arrested and taken into custody and transported to Men's Central Jail? If so, and you'd like to get them out as fast as possible, we can help.
Men's Central Jail is the largest jail in the world, and sits directly across the street from Twin Towers Jail – the second largest jail in the world. Men's Central houses 5,000 male inmates at any one time; including high-security inmates, sentenced inmates and those who are still awaiting their trial.
If you have a friend or loved one located at Men's Central Jail and you want to get them out our offices never close. If you need the fast, friendly services of a local bail bondsman, call us 661-299-2663 or toll-free 855-728-2245.
Men's Central Jail Information
Men's Central Jail
Los Angeles (MCJ)
441 Bauchet Street
Los Angeles, CA 90012
Business Phone: 213-974-4916 or 213-974-4962
Inmate Info: 213-473-6100
24-Hour Men's Central Jail Bail Bond Info: 661-299-2663
LASD Inmate Locator
Visiting Information
Visiting hours are Thursday and Friday 10:00 am to 3:00 pm and Saturday and Sunday 7:00 am to 3:00 pm.
All visitors must register online or in person at the jail. As with all the other jails, visits are limited to 30-minutes in length, twice a week. All visitors are subject to search while on the premises and subject to arrest if prohibited items are discovered. For a full list of Men's Central Jail see: visiting rules and regulations.
Booking and Processing
When an inmate arrives at Men's Central Jail, they will need to be booked into the system before they can be bailed out. Booking includes having their photograph taken, fingerprints recorded and having a national background check conducted. Once this process is complete, bail will be set (if it hasn't been already at a previous location) and it will be possible to obtain release via bail bond.
As mentioned above, Men's Central Jail is the biggest in the world and it is incredibly busy. Because of this, the booking process can take anywhere from 12 to 24-hours to complete, during which time the inmate will be unable to be bailed out. When an inmate is bailed out, they will need to go through another round of processing, this time to be processed out of the system. Again, it can take anywhere from 4 to 24-hours for this to occur, and we have no control over this.
With the amount of time it takes to get inmates processed in and out of the jail, it's often best to get the bail bond process started as soon as possible after their arrest.
The Bail Bond Process
The bail bond process isn't very complicated and it can easily be completed in a short amount of time. It starts by calling us and providing the name, birth date and date and time of arrest of the inmate you want to bail out. We will use this info to locate them within the jail system and verify their eligibility for bail. Once complete, we have you fill out the short, simple bail bond application forms and sign the indemnitor's agreement. Finally, we send someone to the jail to post the bond and your friend or loved one will be released as soon as they can be processed out.
What is an Indemnitor?
The indemnitor is the person who signs the bail bond. When someone signs a bail bond, they agree to become legally and financially responsible for making sure that the defendant shows up for court. If they do show up for all their court appearances, then the bail bond will be exonerated and there will be no further responsibility on the part of the indemnitor.
If the defendant does not show up, then the indemnitor will be responsible for paying the full amount of bail to the courts.
What Does a Bail Bond Cost?
If bail is set at $10,000, the cost of a bail bond will be no more than $1,000.
If a defendant does not show up for all of their court appearances, the indemnitor will be legally responsible for paying the full $10,000 to the court. Therefore, it is best to only bail out those whom you know and trust.
Paying for a Bail Bond
We accept major credit/debit cards (Visa, Master Card, American Express and Discover) as well as cash, checks (both business and personal checks are accepted), money orders, bank account transfers and money wire.
If you'd like to finance your bail bond, let us know. We have several flexible payment plans available that are designed to fit most any budget.
For more information regarding Men's Central Jail bail bonds, or if you'd like to get the bail bond application process started right away, please give us a call any time of day or night at 661-299-2663