Bail Bonds and Inmate Information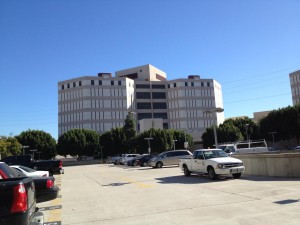 Twin Towers is the second largest jail in the world and it's incredibly busy. If you believe a friend or loved one has been arrested and may be located there, a licensed, professional bail bondsman on our staff is available 24/7 to help you find out.
We've been working with clients in the bail bond industry for years, and are well-experienced in navigating the complexities of the L.A. County jail system. We  can quickly and easily locate someone you're looking for and help get them out of jail fast.
If you would like to speak with a licensed bail bondsman, call us at 661-299-2663. Our offices are open 24-hours a day, 7-days a week, and 365-days a year. No matter what time of day or night you call, someone is always available to speak to you.
Twin Towers Jail Information
Twin Towers Correctional Facility
450 Bauchet Street
Los Angeles, CA 90012
Business Phone: 213-893-5100
Visiting Info: 213-473-6100
24-Hour Twin Towers Bail Bond Info: 661-299-2663
Twin Towers Booking Process
When an inmate arrives at Twin Towers, they have to be processed in to the system. Typically, this procedure includes having their photographs taken, fingerprints recorded and a comprehensive national background check is conducted.
As previously mentioned, Twin Towers is a large, busy jail. It's the main housing facility for inmates in Southern California and also the primary point of entry into other jail systems. Because of how large and busy the place is, booking an inmate into the system can take anywhere from 12 to 24-hours, during which they cannot be bailed out. We can, however, get the bail bond application process started during this period.
Once the inmate has gone through booking and processing, we can bail them out at any time, so if the bail bond application process was started while they were being processed in, we can immediately post the bond and get them started on being processed out.
It can take anywhere from 4 to 24-hours to be processed out of the jail, so even if a bail bond is posted immediately, it can take up to a day before they're released.
Visitation at Twin Towers
Visiting hours are Saturday through Tuesday, from 7:30 am to 6:00 pm. All visitations are taken on a first-come, first-serve basis and must be scheduled at least 24-hours in advance. Inmates may be visited once per-day, two times a week and visits are limited to 30-minutes in length.
Minors under the age of 16 must be accompanied by an adult, though if the minor is the inmate's child and between 12 and 16, he or she may visit without an adult present. If you'd like additional information about visiting an inmate at Twin Towers Jail, or would like to schedule a visit, call inmate information at 213-473-6080.
Bailing Someone Out of Twin Towers
To bail someone out of Twin Towers Jail, give us a call and provide us with their full name, birth date and the date and time of their arrest. We'll use this information to quickly locate them within the system and verify their eligibility for bail. After that, we provide you with information about your responsibilities as a signer, and provide a few short, simple bail bond application forms and have you sign the indemnitor's agreement. Last, we send an agent to the jail and your friend or loved one will be released as soon as possible.
Bail by Fax or Email
The fastest way to bail someone out is to get the bail bond process started while the inmate is still being booked into Twin Towers. Depending on when the arrest happens, though, our clients aren't always available to meet with us.
Fortunately, we're well-equipped to handle the entire bail bond application process via phone, fax or email. If for whatever reason you can't meet with us in-person, we can easily send you all of the relevant forms and post the bond without ever having met.
Paying for a Bond
The cost of a bail bond is 10% of the total bail amount. So, if bail is set at $10,000, then a bail bond will cost only $1,000.
We accept a variety of payment options, including major debit/credit cards (Visa, Master Card, American Express and Discover) as well as cash, business and personal checks, money orders, bank account transfers and money wire.
If you're interested in financing a bail bond – let us know! We have a variety of flexible payment options which include weekly and monthly payment plans. No matter how you choose to pay for the bond, we never include any additional fees, charges or interest.
If you'd like more information regarding a bail bond for someone at Twin Towers Jail, give us a call at 661-299-2663 or toll-free 855-728-2245. A friendly, knowledgeable bail bondsman is available around the clock to take your call.